I made this Twix recipe the other day for the 50th Superbowl. It was a hit, and I got so many compliments, that I know this recipe is going to be made again.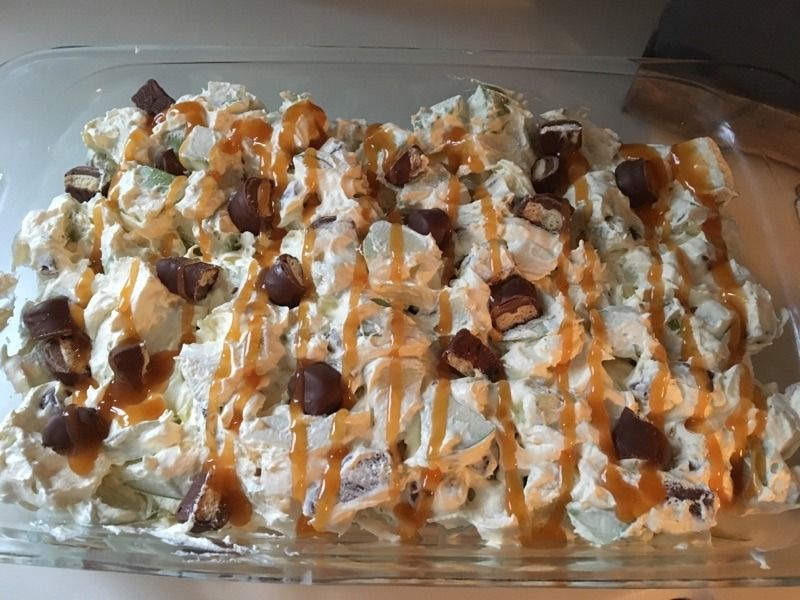 I added more carmel topping afterwards,
because can you ever have too much
carmel topping?! I think not! :)
Ingredients 6 Snickers bars (or Twix) or 12 fun-sized bars (the more the better) 3-4 apples 1 (16 oz) cool whip 1 (5 oz) pkg vanilla instant pudding 1/4 c. milk caramel topping
Directions:
1.) Add 1/4 c. milk to pudding and whisk well, then fold in cool whip.
2.) Chop apples and snickers (or twix) to bite-sized pieces; add to pudding mixture (leave a few pieces of snickers out for topping).
3.) Chill for 1 hour
4.) Drizzle with caramel topping and top with snickers (or twix) pieces before serving.
P.S. Tatum really wanted to eat this. He LOVES apples!
P.S.S. Before we got to watch the Superbowl, we put on the Puppy Bowl on, and this is what happened. Hahahahaha.