Let me just first off by saying that I am so thankful that I didn't see any "I'm pregnant!" jokes on Facebook this morning. They are cruel and immature. It might be funny to them, but there are so many who struggle with infertility and those words should not be spoken unless it actually is true.
Anyways, this morning was GORGEOUS. Last night Trav and I feel asleep to a thunderstorm and to rain hitting softly against the window, so I figured this morning it would still be raining. Instead, it was beautiful, and I was able to run outside in this beautiful weather.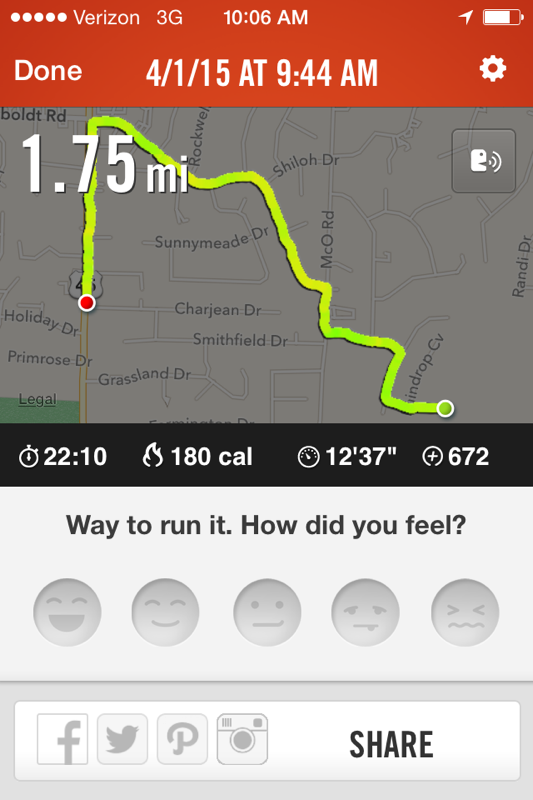 Probably really only a 1.5 miles
I have been trying to run without stopping. It is so hard. I've ran longer distances before, but it has always been a walk/run. My legs become so tired, and mentally, every thought I have is that I can't do it, but I kept pushing through.
Also, I have turned my GPS on while running. When I ran before, my mile was off. It still happens to be off by probably .10 of a mile. Which made me really upset, because all the time I thought I was running before and was so proud of how much I accomplished, I was wayyyy off. Now it's a little more accurate, but according to Travis it's still a little off. So I try running a little bit longer than what I think.
Today I ran 1.5 miles without stopping (okay, I stopped for a min to let some cars go through to get into a plaza) but I am still very proud of myself. My legs, were not. I ended up walking the rest of the way. My plan is to run/jog 3 miles from now on and hopefully that way I will be more prepared for the run with Trav on his graduation date. :)
Can you guys believe that it is April already? Holy smokes! Time is going by so fast! Trav's graduation date will be here before we know it!