I'm so excited to share my Bucket List with you guys. And like any list that I have ever made, it seems to grow over time :)

Now, there are some that you may not see on my list. That is because they were life changing experiences, and needed to be more than just on my bucket list:
*Moving away from home

Now that this actually ever was on my bucket list. (Nor, did I imagine that would ever, EVER happen) but I'm glad I got to experience it. I would have never would have known how truly I miss home. In making this big step in life, I became quite independent and didn't have to rely on my parents all day (I even had to do my own laundry - ha!)
*Marry my soul mate.

God sent Travis when I least expected to find love. Travis has showed me the true meaning of unconditional love. He is everything I could have dreamed of and prayed for. He makes me want to become a better person. And there are not enough words that I can say about him that can even come close to how much I am in love with him. I am so forever thankful that God choose him to be my life partner.
*Most recently, I received Jesus Christ as my personal savior.
This was the most incredible feeling. This is the thing I am most proud of. Read my story here.
----

Here is my current bucket list. Some things may still be added, since I am a big dreamer. Also, I realize that I am already blessed with so much, especially with my traveling experience and other experiences, that if I died today, I would die happy.
*Read the entire Bible. Although I may not remember every little detail, but obviously, there is a lot to learn. I am currently in Numbers.
*Talk to God every day. Enough said. No excuses. Why wouldn't you want to spend time with your father?
*Become a Godly woman. After hearing so much about how much faith Kate's mom, Kar, had - it truly inspired me. I really wish I had the opportunity to meet her and talk to her, especially about her faith. Kar is an inspiration - and a person that I only wished I could be like. Kar was the type of person that would be in the hospital and would ask the priest to pray for others in the hospital (nurses and such) when she was sick. And when she was healthy, she would visit people and pray with them at their work place. Who wouldn't want to be like that? Simply amazing. Also, Kar was a single mom and she raised her daughters beautifully. Kate and Emily are some of the most loving people I have know - and those type of people that you can spend your whole life being friends with. Those are the type of people that can change the world.
*Let others know that I am based on faith. Sometimes, I am scared to share my religious beliefs through rejection, or, since I am growing in my faith, not having the knowledge just yet. I am unable to quote things from the bible.
*Get actively involved with our church, more than just a study group. There are so many things I could do, but I haven't done or that I am not doing. I would love to do things to help the church, serve breakfast (like my Grandma G. would), set up things, greet newcomers and members, help in the nursery, etc. Wherever God leads me, is where I will go.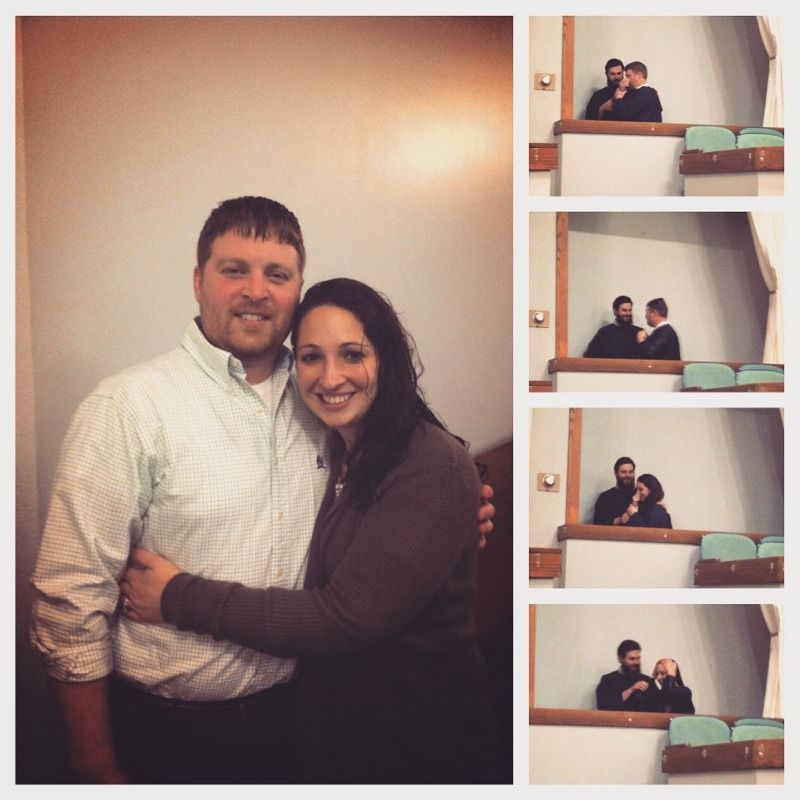 *Be baptized with Travis.
We have grown so much spiritually together, that of course this is something that we want to do together in our church. Being baptized identifies us with Christ, even though we both were baptized when we were little. But with this, it comes from the heart because it is our own choice, and we want to do it together. See more here.
*Be someone's inspiration. To make someone feel important is only half the battle.
*Become a mom (by means of having our own, adoption or fostering). That is my dream job, and I truly believe that this is what I am meant to do in life.
*Show affection more, even by simple hugs to friends and family. You never know if they could be there one day and not be there the next.
*Teach our kids how to become a good person in a hateful world. Also, I really want to do these things with our kids.
*Go on a weekly date with my husband after he graduates from school.
*Give daily reminders of how much I love my husband and kids.
*Have a marriage more beautiful than our wedding. Something that our kids can look up to and that we can be proud of.
*Renew our wedding vows. Our wedding was beautiful, but I can't imagine anything more beautiful than renewing our vows in front of our children in a quiet outdoor ceremony. Plus our wedding was so stressful and more like trying to please everyone, that the only people we would have to affirm approval would just be us.
*Grow old with my love. I can't imagine growing old with anyone else. I will love my Travis from here to eternity.
*Spoil our grandchildren silly. They say the best part of life is grandchildren. I am sure they are right.
Travel:
*At least have traveled out of the country as many times as I could. Seeing God's beauty all throughout the earth would be amazing.
*Go on several mission trips (Trav and I have even started talking about maybe retiring in a different country to help others).
*Visit all 50 states (this has always been a dream of mine. I also want a souvenir from every state - I prefer Christmas ornaments). (Keep up with our adventures here)
*Visit ground zero.
*Drive the west coast.
*Visit Hawaii.
Who am I kidding? What girl doesn't dream about going to Hawaii? We were so blessed to go on our honeymoon and would love to go back. Hawaii is magical.
*Visit Pearl Harbor.
Even though Travis really didn't make seeing Pearl Harbor (since he has visited it before) a top priority for our honeymoon, he knew I really wanted to visit, so he made sure we took a day to visit. It was a very humbling experience (if that is the word I am trying to use). To be standing there and to see an actual ship underneath you with the oil still spilling out is so -- I am at a lost for words. I didn't want to leave. I just wanted to keep listening and wanted to read everything I could. Travis wasn't feeling well, so we skipped some things, but honestly, this would be so worth a whole day trip. Also, Travis said this experience was much better (even though he didn't feel well) - because he got ear phones so we could listen to some of the things that we read about. Also, I think it is because he is older as well - so he probably felt more emphatic to it all.
*Go snorkeling.
You can laugh as much as you want, but I am honestly scared of putting my head under water. Travis made sure before we went on our honeymoon that I got into the pool at the gym and wore my snorkeling gear until I could get comfortable. That way I wouldn't freak out. Snorkeling is beautiful; much different than a gym pool. Ha. You can see more here.
*Visit a volcano
Who hasn't wanted to see a volcano? One of the coolest things you will ever see. Travis took me on our honeymoon in Hawaii :)
*Go on a safari in Africa.
*See the great pyramids.
*See the olympics; wherever that will be.
*Visit Lake Hillier. Pink water? Yes, please!
*Go on a road trip with just the girls!
*Sign language (sign language is one of the most beautiful things that I have ever watched)
*How to say simple phrases in Spanish. This is because we want to visit the DR.
*How to play the piano (I have fallen head-over-heels in love with the piano after hearing it every Sunday at church).
*Drive a stick shift car.
Learned in 2014. Not really excited to drive it again. LOL.
Health:
*Be able to run a mile.
*Workout at least 3-4 times a week.
*Complete a Warrior Dash. I can't believe I'm saying this, but since Trav did it here, it even makes dressing up and rolling in mud fun.
*Be part of a 5k Color Run.

Read about the fun

here (2015)! And more fun here (2016)
*Run a 5K
I did it!!!
*Be the best shape of my life (before kids and after kids). I truly have to work hard for this one. And I don't mean skinny - but I mean being able to play with my kids without having to huff and puff everywhere or walk up a flight of stairs without becoming so tired. Plus, I am hoping that this will give me stay healthy and maybe even live a little longer.
*Eat healthier - maybe not every day, but not to get into the routine of eating a batch of cookies every day.
*Try Yoga.
I did my first yoga class with my best friend Shelly on in March 2014. She found a place in Jackson where we could get a free pass for the first time (how she researches these ideas from out of town is awesome!) LOL.
*Be genuinely happy.
*Look good in skinny jeans. Actually, any jeans, but I've always wanted to pull off those jeans with holes in them!
*Create a family cookbook of favorite family recipes - that I can also make for family members and for our children.
*Brew our own beer.
*Skydive!
*Yearly sleepovers with the friends.. I hope!
*Send cards out often.
*Have a paint fight with Trav and our children. Oh my gosh = yes! How fun! And.. I would love it if we could even get a photographer to take pictures of it.
*Volunteer - till I am old and gray.
*Always have a dog for the rest of my life.
*Become better at photography. Beautiful images always seem to make my heart happy.
*Take more photos of our life.
*Blog more so I can remember things.
*Paint ball.
Okay, honestly, this was probably never really on my bucket list, but I am so glad that I did it, and I am hoping to do it again one day. See photos here.
*Horseback riding
We found a groupon for this and it was amazing and so relaxing. See photos here.
*Hot air balloon ride
This was so much fun! Trav insists that it is a one time only kind of thing, but I would do it again if the opportunity ever arises! See photos here.
*Go parasailing.
I went with Jocelyn's family to Florida in 2009. I am so glad I got to experience this and experience this with her. (Yes that is us in the picture!)
*Do a ghost tour
.
Not going to lie, watching these things on tv makes me either 1. really freaked out or 2. not believing anything that I am seeing. We found a Groupon (got to love Groupon!) experience for half the price and went. It was SO much FUN. We did another one
again
when my parents came in town. I don't really believe in ghosts, although I do spirits, but it was fun to learn the history of the town and see people's reactions.
*Go on a shark tour.
Swimming with sharks wasn't exactly my idea of what you call a good time, however, I actually enjoyed it and felt surprisingly peaceful. Travis loved it and wouldn't get out of the water! Although I would suggest to find a tour that his history about sharks.
*Swim with dolphins.
*Cliff jump.
*Cook more and try to enjoy it. Be creative with it. Find new recipes. Plan weekly meals - as you are learning that is seeming to help.
*Watch a music video being made.
Friends and us were just wandering around Nashville one day and we stumbled across the Avett brothers making a music video of "Another is Waiting".