As soon as I heard about Kate's mom, I called Travis and told him, "I need to go." Travis didn't disagree, he just wished I could drive his car, but since it was a stick I knew I wasn't even going to risk it. Being a mom worried about the horrible weather conditions and knowing her daughter would be driving an older car, "Are you sure?" "Yes mom, she's my best friend."

Kate has had a lot that has happened in her life for the past two years, including now, losing both parents. She has one sister that she is very close to, but I don't believe she is as close with her other family, including a half sister.

I loaded up Big Red, with 3 dogs and 2 cats (yes, we added a friend's dog) and took off on Friday morning, hoping to get there before dark. And no, I didn't know about the day before happening of where a major accident occurred only a couple hours away. I did not know about this accident, but as soon as I approached closer to Indiana, my car took the beating of strong winds, drifting snow, and ice on the road, while the city decided to close down some of the main roads due to unfavorable driving conditions.

I made it there, because I wanted to be there for Kate. She is like a sister to me, and I can't imagine what she's going through. Kate is such an inspiration to me, and after getting to know her sister Emily, I really wished I would have known their mom more. If she could raise such amazing girls, than she had to be such an incredible woman. After being with Kate, and her one sister, there is no doubt how much they had for their mother. One thing that they spoke so highly of her what what she had a big heart for God.

In her final days on Earth, Kar, mediated daily on Jeremiah 9:23-24, which states:
This is what the Lord says: Let not the wise boat of their wisdom or the strong boast of their strength or the rich boast of their riches, but let the one who boasts, boast about this: that they have the understanding to know Me, that I am the Lord, who exercises kindness, justice and righteousness on Earth, for in these I delight," declares the Lord. (NIV)
She then would read a quote from Charles Swindoll...
"Lord, use these quiet moments to enhance my knowledge of you. Take first place in my heart. Reveal yourself to me."
I did find a beautiful poem for anyone who may be missing someone in heaven:
Crossing Over
Oh, lease don't feel guilty
It was just my time to go.
I see you are still feeling sad,
And the tears just seem to flow.
We all come to earth for our lifetime,
And for some it's not many years
I don't want you to keep crying
You are shedding so many tears.
I haven't really left you
Even though it may seem so.
I have just gone to my heavenly home,
And I'm closer to you than you know.
Just believe that when you say
my name, I'm standing next to you.
I know you long to see me,
But there's nothing I can do.
But I will still send you messages
And hope you understand,
that when your time comes to
"cross over," I'll be there
to take your hand.
-Author Unknown
Kate's mom didn't really have anything planned with her funeral. She wasn't even able to tell them her last wishes. She was able to tell her daughters that she loved them before she passed - and although she told them that all the time, it's something they needed to hear one last time.
Please send prayers for Kate, and her family to her to feel at peace. To know God's love. To feel their mother near. To remember the good memories.
------
I was glad I was able to be there for Kate during this time, even though I wasn't able to help her out as much as I would have liked. The weather was awful. AWFUL, I tell ya.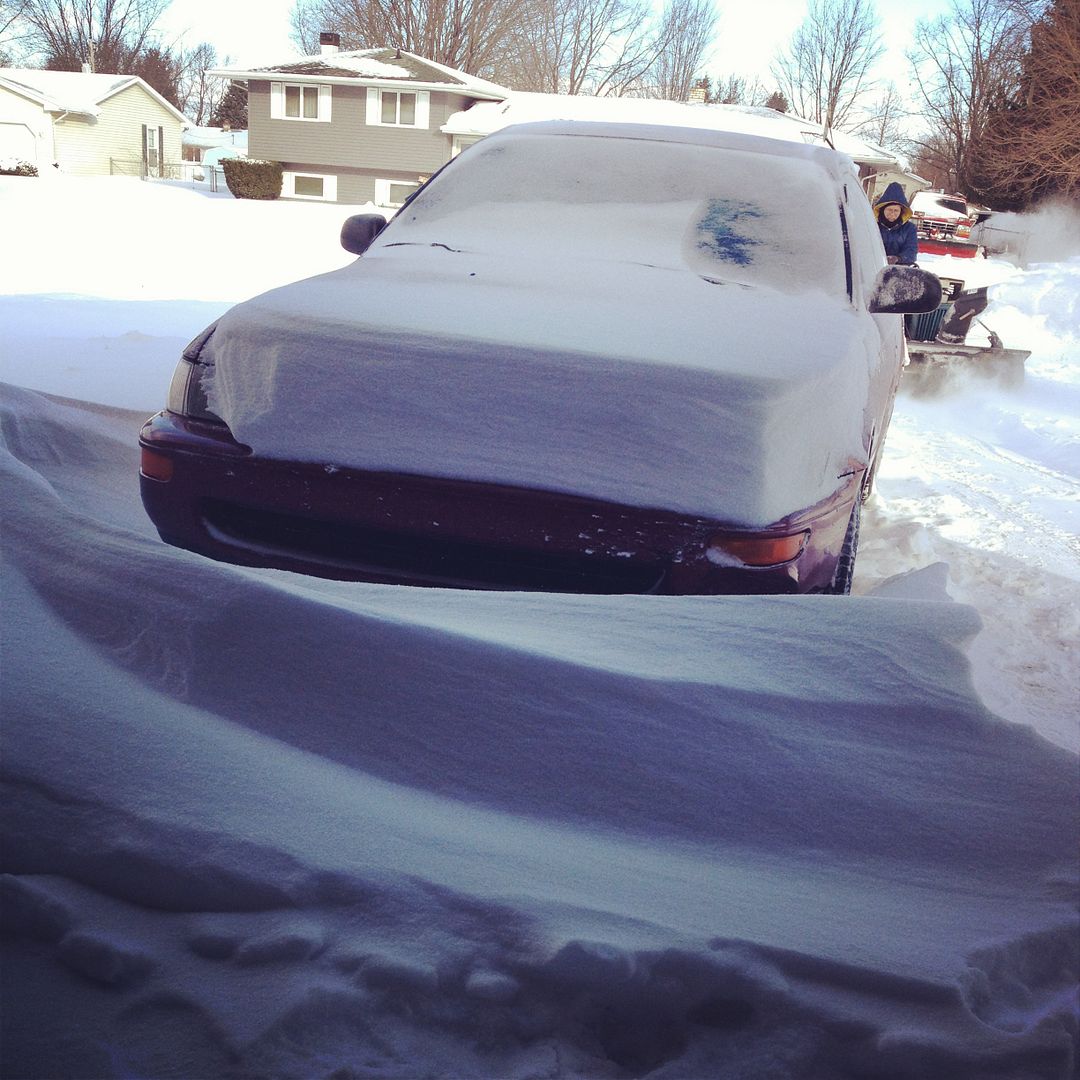 A picture of the snow the next morning after arriving the night before (the drive way was clear when I arrived). Thankfully, the first day there a neighbor helped snow blow, but, for the rest of the week, it was just Trav's brother, Trey and I, shoveling. It wasn't my idea of fun before I had to leave every day.
I have never seen an Indiana winter like this. While I was there, snow piled up, and for the last two days while I was there, they put a State of Emergency up for anyone who would be driving would get a $2,500 fine. Although, later, I found out that people only got warnings and the only people that received a ticket, were the ones who was trying to steal some scrap metal. (Serves them right).
The boys (and Cali) enjoyed the weather at first. They loved hopping in the snow like rabbits, but when the Polar Vertix arrived, they would go outside to go potty and come back inside holding their paws. I felt so bad. I was planning on watching Cali that week before everything happened, so I offered to take her with so that way it wouldn't cause her family in trouble.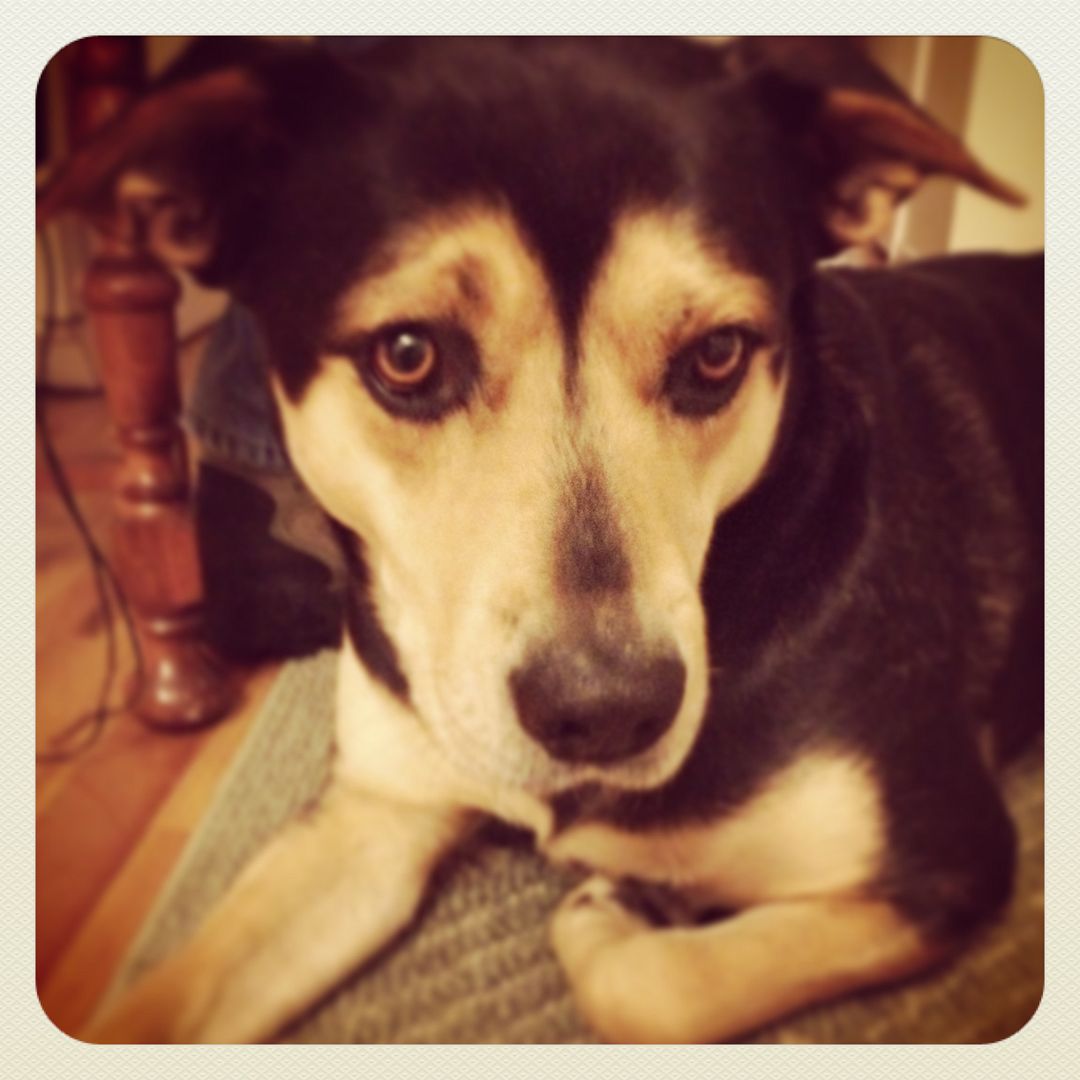 Isn't that face so sweet?
Thankfully the ban was lifted a little early. I was able to drive over to help Kate with moving some of her mom's stuff. However, while trying to get some boxes from the back of my car, I pulled a little too hard on the handle apparently, and the handle fell off. Poor Red.
Also, I was glad to be able to see my grandma. She fell and broke her home. She is now in a nursing home, and being home from last month, she looks so much worse. She is a puny 93 pounds and looks like a skeleton.
During Christmas, we knew she had dementina,however, she was still looking okay. She fought with my parents and Trav and I when we arrived to her retirement home claiming that it wasn't Christmas. We had to show her our phone with the date and the newspaper. After getting her ready, she stepped out of her room telling everyone, "Merry Christmas! I'm going to a party!" (While she headed the wrong way to the door). And while at my aunt's house, we got her some food, watched her eat it, and about an hour or two afterwards, she started getting uncomfortable saying, "Are we ever going to eat around here?" She is just so cute.
This time it was different though, not only with all of her weight loss, she didn't even remember me, or barley even spoke. They think she has a thing believed to call Sundown Syndrome. She also could like the way she is because of all the medication she's on. She broke our heart when she said she didn't want us to leave and started tearing up. I am hoping that when we go up there again for Brittany's graduation, that she may be improving, but I'm not really sure.
One good thing about being gone, is that by coming home, many people texted/called to make sure I got home safe - and I felt so loved. One thing I rewarded Big Red with was a nice car wash and cleaned his interior (probably the best he has looked for a while). Don't worry, the animals got some treats too for being so good in the car ride. They slept the whole way home and when we got home, they happily fell asleep on the couch right away, while I frantically cleaned the house, did laundry, unpacked and etc. (I really don't know how I was in the mood to do all of that with driving 9 hours home).
With all the happenings of this past week, I didn't eat healthy OR did I exercise. I should have and feel guilty for not doing so, however, when I looked in the mirror, even though I'm not where I would like to be at this point, but I can see improvement. I will hopefully take pictures this week or next. Today though I needed to take a step towards the right direction again. This morning I woke up at 6 AM to exercise with Insanity. I didn't work out as hard because I got tired but I am hoping to make a workout plan and an exercise plan for the next week, so I know exactly what I should follow every day.