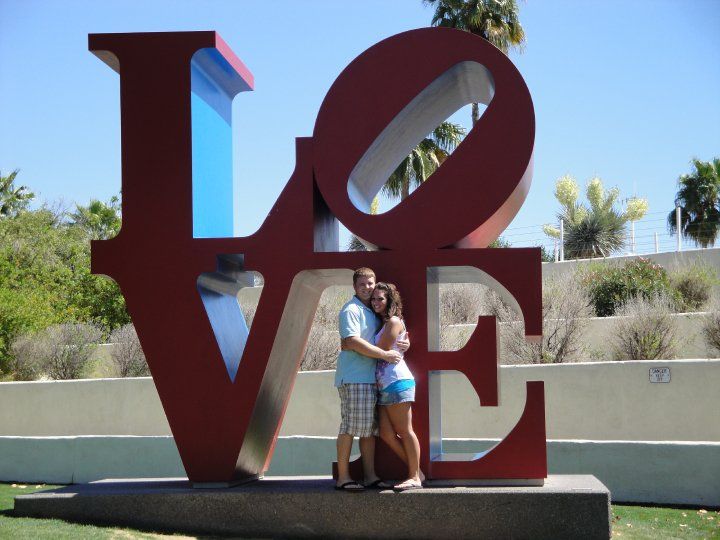 Sometimes I wonder if I made the right decision to move here for love. I mean, did I make the right decision and chose what was best for both of us? Right?


Heck yah I did.
Recap: Trav and I met in April 2009 and fell in love fast. After the first day of us meeting, we were barley apart, except for the time I went for two weeks to Florida and for a week when he went to WI. It was difficult being so far away from each other, but nothing prepared us for what was going to be coming next: Trav broke the news that he got a job. This job was not located anywhere close, but instead 3,000 miles away from home. We knew he had to go and wanting him to stay would have just held him back. We decided to try the long distance relationship thing.


In July, we (Trav's mom, brother, friends, family and I) planned a surprise going away party for Trav before he left. He hated surprise parties, but I really thought he should have one because he needed to know how much everyone was going to miss him. The day of the party, I took Trav out where we did a scavenger hunt of places around town of places where we went and where I would miss him the most (including the river walk, the restaurant that we first met at, and putt -putt). I left him clues, and when he thought of the last place we were going to go (even though we never went)I told him that we needed to go back to his house to get a blanket, but instead he came back to his mom's house with a bunch of people and looked like this:
We knew the long distance thing was going to be tough, but we were determined to make it work. We figured out that I would move to Arizona so we could be together. The problem? I had work and was a year away from graduating. However, the best thing for me personally, was to graduate. I was close and I needed that piece of paper to make my future better. But every time he would come home, it was like a little tease of not seeing him for very long, and it would always be so hard to say bye.
It was hard being so far apart from Trav, but having Skype was a life saver. Not only could we talk, but we could actually see each other. Trav and I would save our money up (okay, mostly Trav) to see each other about every two months for about a week. It was so hard to imagine actually being in Phoenix, especially since it took me 5 months until I could actually get out there (winter break). When I was able to get off the plane for the first time, I knew that Arizona was the place that I really wanted to be, and made our thoughts more serious.
Even though we thought a year being away from each other was going to go by super slow (at some points it did) but the year went by faster than we imagined. Trav was busy working nights and in his spare time he was looking for houses and exploring Phoenix. The time between working and school, I was able to spend my extra time with my friends and family. For the first year of our relationship, we spent more time away than together.
May finally rolled around. I graduated. Then June hit before I was prepared for it. However, the timing couldn't be more perfect for my big move. I actually lost my job in June due to school wide budget cuts. I was getting more and more excited to get out of the town where I thought I was going to spend the rest of my life.
However, it didn't really hit me that I was leaving EVERYTHING that I knew behind when it came time to move. This included my friends, family, the town I grew up in, all my jobs, etc. It didn't really sink in until we got in the car and pulled out of my neighborhood. I had to keep reminding myself that this was just the next adventure, and not to look back. Even though I wanted Travis and I to make it as a couple, if Trav and I didn't make it at least I was given the chance to live in a big city, make new friends, get a job on my own, and etc. I don't know if I would have had the opportunity otherwise.
The road trip was unbelievably fun. I was so scared that we were going to run out of things to talk about, but Trav and I barley even turned on the radio and just talked the entire time. We were able to stay with friends along the way in Utah and Colorado. My car even broke down in Colorado. Thankfully it wasn't anything serious (just a battery), but I still had to have my car towed.
When we pulled up to the house, 3 days after driving, we walked into the house. A sudden chill came across me while I thought, "This is home." I was more excited by this point, even though knowing that we had nothing except a bed (our couch hadn't been delivered at this point) we knew there was lots to do because my parents were coming seven days later. Which gave us a full week to get the house ready in time.
At first, it was pretty stressful knowing our short time limit of when we needed to get an empty house to become a full house. We were spending money up the bazoo getting things for the house, and I didn't even have a job. If Trav wasn't working, then we would spend our time together shopping for house things. On top of that, Trav's brother and father were coming a week after my parents would be leaving. Did I mention my parents were coming the next week? Ha.
During the time our families were here, it kind of put a strain in our relationship. We were too busy to even spend some alone time together and here we were: living together. We weren't even used to each other habits and we had company the first weeks of just moving in together. On top of that stress I couldn't seem to find a job anywhere. Don't get me wrong, it was nice to have family and see us, because we weren't sure when we would see them next. (Plus, they helped us by getting some stuff together for the house that was needed).


Trav was sleeping during the days, working during the nights so I felt like I was all alone. It was tough. I barley was able to make any new friends, except for our neighbor, Janice. She actually moved to Arizona from South Carolina two months before me. Her and her fiance are like our family here. But things didn't come as easy as I thought they were going to. I cried some days, other days, I was just so happy to be away.
So I wouldn't be so alone and since we had the time, we decided to get a puppy. This took up most of my free time, making sure he was okay and helped with me with my homesickness. But I still felt like things were missing: I missed my friends and family. It made it worse that I wasn't able to find a job right away.
We pulled through our obstacles, and currently we couldn't be happier. I love Travis and I admire everything that he does. He is so special and is still the guy that I want to spend the rest of my life with. I want to dedicate my life to getting to know him every day.
Moral of story: it was worth the wait. And I do believe long distance can work, but you both have to be determined to make it through. And perhaps, if you relocate it will be a new, exciting adventure for you both.