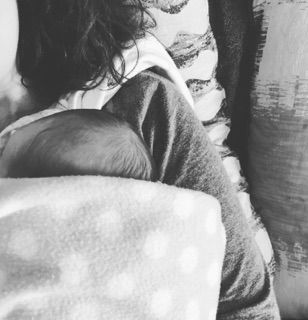 After finally being licensed, I waited for a phone call so we could finally fill our house. You wonder what child God will bring into your home and you pray for these little kids that have to go through so much brokeness to get to you. We were told that we would get a phone call every day for a placement, and thankfully, that hasn't happened to us yet. But it was a couple of weeks, and we still had no child in our home.
I was expecting to have older children in our home. I had dreams about a boy, and then a girl. So I made sure that the kids bedroom was as awesome as I could make it, while I didn't stress on much of the nursery. But sometimes, God has other plans.
We did get a call about a long term placement, but because we weren't wanting to do long term at the time, we declined. Then we got another phone call, but that child ended up for adoption through another agency.
The phone rang. It was another call about taking a placement. I still wasn't sure on what kind of questions to ask, but I guess I felt like I didn't need to because the last couple of placement calls didn't end up working out.
The social worker briefly told me about a baby. She said there would be court today and the judge would end up making the final decision on where this baby would be placed. They said that we were plan B, and didn't think it would be likely that she would come to us.
So I hung up the phone and I tried to go about my day like and tried to make it as normal as possible and trying to keep myself from being disappointed. My heart really wanted to have her in our home.
However, I was terrified of babies. I really thought that I wanted a child that would be able to tell me why they were crying, and someone I could do fun things with.
But God has other plans. I think God was trying to prepare me for what was to come. M
ost of the items that were donated to us for foster care were mostly baby items. A couple days before all this occurred, I started asking friends on what they felt like the items they would need most for a baby and what to pack in a diaper bag. But still, with all that stuff, I didn't read up about babies and I didn't really know anything about them except that they eat, sleep and poop, so I was still scared.
For some reason though, I wanted to be prepared just in case that this would really happen. So I had a friend double check my installation of a car seat just in case I got to bring her home. But the hours flew by with no word. I asked the case worker if it was safe to say that we didn't get the placement since we didn't get a call, and she reassured me that they would call me regardless with the outcome. And, that I realized that when she called the first time, I must have been so nervous, that I wrote down the wrong time.
It wasn't much later that I looked at my phone and saw that I had missed text messages (my phone doesn't always sound when I get text messages), so before I got the chance to read them, I got a phone call saying to pick the baby up from the hospital. I was told to bring a car seat, and a change of clothes for her. Thankfully I had already pre-packed a diaper bag just in case, so it made things less hectic.
I have never been so nervous in my entire life. Our entire life was about to change, and
I had no idea if Trav got the text messages that we were getting a baby since he was still at work. This was really happening!!
Thankfully, Trav was getting off of work as soon as I was pulling into the hospital. He asked me to wait so we could go in together, but the nurse was worried that if we waited any longer, than we would have to wait another 3 hours until her next feeding. So I rushed to find the floor and the room we were supposed to go to.
They directed me to the nursery where I met the social worker. As I followed the social worker to the room, there laid the most beautiful baby in front of my eyes. My heart skipped a beat. Since the social worker was called in on the case, she wasn't sure if the baby that we looked at was going to be the baby we would be taking home. A nurse walked in and confirmed that this baby was the baby we were looking for.
My mind was racing a mile a minute, but I managed to put all my stuff down so I could wash my hands. Travis walked into the room. I sat in the chair as they placed the baby in my arms so I could feed her for her 3 hour feeding. We couldn't stop smiling.
We were actually doing this. Everything was a whirl wind, as the social worker was answering questions that I printed out from a website in case we got a placement and going over the paperwork. Then the social worker left; leaving two lost people, who have never been parents before and had no experience, with a baby to take home.
The nurse then told us that the baby would have to have a carseat test. This test would be an hour and a half long, and we wouldn't be able to touch her. It was the hardest thing in the world, not to be able to hold the baby that was now in your care. While she did her car seat test, I watched an infant CPR training video and practiced on a doll (Trav has already had his training for this, so he made sure I was doing all of it correctly).
It felt like days went by while we waited for the carseat test to be over with, but finally she was placed back into our arms. Travis jumped in right away to change her first diaper and to change her clothes, probably because he could see my terrified look. I was so scared because she was so little. Shortly afterwards, we were leaving to go home with a child that we have never met prior to this day.
And what a strange feeling it is; as you get in with an elevator with a baby that isn't yours, where people assume it's yours, and start asking how big she is and how old she is. These people had no clue that we were foster parents and we barley knew the answers ourselves.
That ride home felt like forever. The entire time, I was wondering if she was still breathing in her carseat because maybe she could be sufficiating with the carseat since she was so little. We finally made it home, and after that it was a blur.
The first night, I remember just holding her as she slept. I was too scared to sleep. I wondered about every.single.sound and didn't know if it was normal or not. And the entire night, all I could think about was wondering if she was still breathing.
We were now foster parents; and we couldn't be more blessed. She is the most beautiful baby in the world. And as you could have guessed, the idea of just doing emergency fostering, went out the window as we told them we wanted to do long-term. Haha.
P.S. That feeling of is-she-still-breathing in the middle of the night, never really goes away.